Reply To: Share your inspirations!
April 3, 2020 at 23 h 09 min
#16683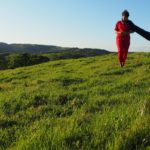 Ellieark
Participant
Hello!
Ellea here from Berkeley, CA. I'm interested in the intersection of public art practice, dance, ecological design, de-colonial thinking, and public pedagogy. I spend the last 8 years living in Vancouver, BC, where I co-founded frida&frank, a public space ping-pong/civic arts project. You can find our past work here: https://eleanor-arkin.com/fridafrank
Currently inspired by this group: https://www.leadtolife.org/
Lead to life is an organization transforming guns into shovels and practicing reconciliation through public ritual and conversation. They also hold space, and create ceremony around those whose lives have been lost to police violence, racial segregation, and look to nature to connect and heal us.
Also, the work of FutureFarmers has always been an ongoing inspiration, from public soil testing, to flatbread making, they really push the boundaries of where art meets public, meets political, as well as ecological.
http://www.futurefarmers.com/
and for fun! The artist Judit Navratil, who summersalts across cities: https://www.works.io/95228/old-to-the-new
Thank you for all the amazing recommendations!