Reply To: Share your inspirations!
April 15, 2020 at 19 h 34 min
#18722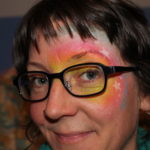 Ruth Hogg
Participant
Hello Everyone,
My name is Ruth Hogg and I'm a multidisciplinary artist, poet and performer.
I live in Aberystwyth and also get about to as many festivals as possible. Its lovely to see Olga Kaleta and Kitty O here in the community who I had the pleasure of working with/assisting previously at Meeting Lab and Cauldron Tales.
The main themes that run through my practice are probably fun and magic. I like creating group mandalas out of natural materials to focus and amplify an intention. I have a tea leaf or tarot reading alter-ego called Madame Fari who can sometimes be found at events, and a naughty witch who grants wishes with her wand and goes around offering people love potion! I also love working collaboratively, and am really into immersive site-specific performance.
Circus, especially aerial I just adore watching and participating in. One of the shows that really blew my mind was Immortal 2 by No Fit State. Here is a link.