Reply To: Share your inspirations!
April 19, 2020 at 20 h 22 min
#19281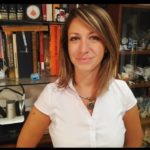 jana_dim
Participant
Hello,
I am Jana from Serbia.
I am musicologist with reach performing experience as choir singer.
I performed in concert halls as well as in public spaces. The last performance I participated was in Italy, Matera, European Capital of Culture 2019, where I was improving my skills for two months. The name of project was Abitare l'Opera where I was part of choir of citizens that sang songs in dialect. Matera is known as city in stone so performers (actors and choir) walked through the city accompanied by audience.

This is one virtual project I participated during this COVID time.

In my country I work at national Radio Belgrade and as manager assistant of ArtLink Festival of young talented musicians. That gives me a different perspectives on performance art. I am involved in managerial side of music performances, but also as someone who makes reviews of concerts.
I hope this course will give me a new and different perspectives, but also an experience that I would like to share with other colleagues. This is also an opportunity for gaining new knowledge, tools and skills. I hope I will finde an inspiration for developing and implementing new and inovative projects.
Greetings