Reply To: Share some inspirations
April 20, 2020 at 15 h 34 min
#19376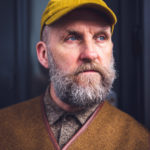 Prof Rees
Participant
AGORA – an independent space to imagine a future
Commissioned by The National Eisteddfod / Visit Wales, produced by Ffiwsar
'The democratic pavilion of 100 black painted doors at the Llanrwst Eisteddfod, the doors that invited us to project mass imaginative strategies on them, will remain in the memory, symbolising the threshold we are at today and that the tide is beginning to turn.'
Dylan Huw, 'O'r Pedwar Gwynt' ( translation )
AGORA celebrated the rural North Wales town of Llanrwst's historic bids for independence. In 1276 Llewelyn ap Gruffudd the last true Prince of Wales proclaimed that the free Borough of Llanrwst was autonomous of the diocese of St Asaph. In 1947, Llanrwst town council made a submission to the United Nations for a seat on the security council, stating that Llanrwst was an independent state within Wales. This bid was unsuccessful but the hunger for independence within society persists.
I wanted to shine a light on Llanrwst's historic yet topical reputation by constructing a temporary independent space in which to imagine new possibilities and visions of the future; creating an agora, a gathering place for the assembly of active citizens.
The project's egalitarian foundation was represented in its very fabric. We invited the people of Conwy to donate their discarded wooden doors, a 100 of them – ranging from farm, hotel, pub, office to toilet doors with which we then built our own AGORA.
Inspiration for the design came from the recent unveiling of Llys Llywelyn at St Fagans. This re-creation of a Royal Court of the Princes of Gwynedd was based on the surviving remains of Llys Rhosyr in Anglesey.
Nothing remains of the original court apart from its foundations which have provided the clues for archeologists and architects to interpret and re-construct the Llys Llewelyn. Our AGORA is a re-imagining of their re-imagining.
During the Eisteddfod I programmed a number of events – discussions, performances and concerts,12 in total within AGORA and also conceived three splinter performances that took place around Conwy – Ôl-Llywelyn, LLinell | LLinyn and Wal Werin.
Images: Keith Morris
AGORA
Design Team : Jenny Hall Crafted Space & Tabitha Pope
Fabric : Melin Tregwynt
Creative Producer : Iwan Williams Ffiwsar
Ôl-Llywelyn
Performer : Eddie Ladd
LLinell | Llinyn
Choreographer : Matteo Marfoglia
Performers : Angharad Harrop, Angharad Jones
Harp : Helen Wyn Pari
Sound Artists : Alan Chamberlain, Ed Wright
Mist (installation)
Artist : Sébastian Preschoux
Curator : Karine Décourne, Migrations
Wall Werin
Choreographers : Kate Lawrence, Angharad Harrop
Performers : Lisa Spaull, Angharad Jones
Harp : Ceri Rimmer