Reply To: Share your inspirations!
April 24, 2020 at 22 h 18 min
#20109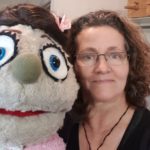 Alynzl
Participant
Kia ora, I am Ally I was born in England and raised in Aotearoa New Zealand.
I was lucky to spend time travelling around the UK a couple of years ago experiencing and working in community/art projects and the UK participatory arts sector, particularly in the North East/West. This left a profound impact on me as a community based arts facilitator. Participatory arts seem to be woven into the fabric of society there and there were so many amazing arts organisations doing inspirational and extraordinary things every where I went.
Also there seems to be a lot of support for and understanding of this sector which is not the case here, although things have been slowly improving.
I also remain completely inspired by an Irish organisation Macnas https://www.macnas.com/ who create incredible street theatre parades involving hundreds of people in the community. My goal/dream is to create something similar here in NZ.
I am also really inspired by all the great projects I am reading about here in this forum, well done and keep up the good work, it will be needed more than ever after this crisis is over, kia kaha .