Reply To: Share your inspirations!
May 18, 2021 at 10 h 59 min
#27487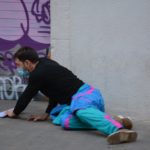 CleiGrott
Participant
I'm Clei Grött. I'm a brazilian actor based in Barcelona. I have a degree in Performing Arts in my home country and I've acted mostly on stage and on screens. However, my participations in public space plays and performances have been very exciting and impactful. Right now I'm working a street theater play named "no hay citas disponibles." This play/performance/urban intervetion raises the issues of the overwhelming bureaucracy inflicted on the immigration processes in the public administration, the visibility of the immigrant in the city, the exploration of work force under questionable conditions, the lack of opportunities etc. This a project of brazilian company ERRO Grupo which has a long and successful history in street theater and the use of public spaces for artistic and political purposes.
Apart from the projects I've been involved in I'd say that other pieces from ERRO Grupo and Roger Bernat are referential and inspirational to me.
I'm looking forward to getting to know more artists!
This reply was modified 2 years, 6 months ago by

CleiGrott

.