Reply To: Share your inspirations!
September 9, 2019 at 12 h 56 min
#7775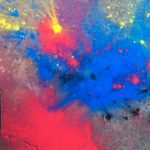 martin.aranda
Participant
SEFT-1 Abandoned Railways Exploration Probe
Ivan Puig and Andrés Padilla Domene (Los Ferronautas) built their striking silver road-rail SEFT-1 vehicle to explore the abandoned passenger railways of Mexico and Ecuador, capturing their journeys in videos, photographs and collected objects.
In their first London exhibition,: Modern Ruins 1:220, commissioned by The Arts Catalyst and presented in partnership with Furtherfield Gallery, in the heart of Finsbury Park, the artists explore how the ideology of progress is imprinted onto historic landscapes and reflect on the two poles of the social experience of technology – use and obsolescence.