Reply To: Share your inspirations!
September 10, 2019 at 16 h 04 min
#8287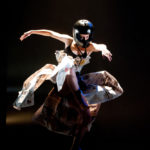 tegan.peacock
Participant
My initial interest for art in public spaces was sparked by a public intervention performance by Steven Cohen in 2001 entitled, 'Chandelier'. The work is meant to contrast opulence and squalor, and highlight what was happening to the people of South Africa post Apartheid where they weren't getting the jobs and homes they had been promised.
The second work is by Bouchra Ouizguen (from Morocco) called Corbeaux. The large group of women were not all dancers and members of the public were allowed to attend a workshop prior to the performance if they wanted to take part. For me the work was hugely powerful to watch and had the power to hypnotise with its use of rhythm, the body and voice. I watched this performance in a public square in Switzerland. I don't have a video of that performance, hopefully the below gives you some idea…