Reply To: Share some inspirations
September 16, 2019 at 12 h 56 min
#9148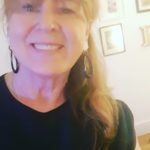 heatherd
Participant
Old style dance halls in England such as the old Wigan Casno and the current Working Mens Clubs function rooms are the hidden spaces that are still inhabited by the original dancers of the Northern Soul .movement started in the early 1970s. The linked image is Wayne ai friend who is in his late 60s dancing and connecting back to the time when he took his first steps onto the floor.
As an artist in my 60s Northern Soul events and the pdance floor provide an in the moment experience to share a passion for the music and create physical movements and stylised steps that are individual and can never be repeated..
There are many people like me in their 60s who are actively involved in this sub culture and who are key actors at each event . They are unique shared experiences and introduces questions about societal perceptions of ageing.